Regulations.gov, from the Office of Management and Budget (OMB), is the federal government's central website for posting notices of proposed agency regulations and for receiving public comments on those notices. Regulations.gov was launched five years ago. It has taken that long to get most agencies on board with the effort and to add a full set of features for public access. The Food and Drug Administration (January 2008) and the Nuclear Regulatory Commission (December 2007) are some of the latest to migrate to the system. (See the What's New page for updates. The site also has a full list of agencies.) With a new interface and new capabilities released in December 2007-changes OMB dubbed "Regulations.gov 2.0"-it is time to take a fresh look at Regulations.gov.
Why use Regulations.gov?
To find proposed regulations and other agency documents open for comment.
To comment on them.
To read others' comments on them.
To identify and view a variety of documents on a regulatory docket.
To get email alerts as documents are added to a regulatory docket.
To get an RSS feed of documents from the daily Federal Register (not currently offered by GPO Access, the official source).
What is Regulations.gov?
According to the site's FAQ section:
A Federal regulatory clearinghouse, Regulations.gov was officially launched in January 2003 as the first milestone of the Federal E-Government eRulemaking Initiative. This U.S. Government Web site encourages public participation in the federal decision-making by allowing you to view and submit comments and documents concerning federal regulations, adjudication, and other actions. Regulations.gov provides one-stop, online access to every rule published and open for comment, from more than 160 different Federal agencies.
Depending on the source agency, materials go beyond the rulemaking notices published in the Federal Register to include items such as scanned copies of petitions, letters, memoranda, and decisions. The FAQ says: "While Regulations.gov enables Agencies to post rulemaking and non-rulemaking dockets on the site, it is up to each Department or Agency to determine what information is made available on the site."
How do I find what I need?
The 2.0 release of Regulations.gov brought full-text searching and multiple approaches to mining the database. The home page features three major options.

Search. Search all documents by entering a keyword, phrase, identification number, or other term.
Comment or submission. Enter a keyword, phrase, or other term to find documents accepting comments or to file a submission.
More Search Options. Links to six more search and browse options.
The general search option is "Google-like": a single, blank search box that presumes your knowledge of what is in the database and the unimportance of precise search syntax at the start. It is not Google-like in that there is no advanced search screen to guide you through setting several parameters at once. Instead, you start with a keyword search, click 'Go', and examine your results alongside a menu of facets for incrementally narrowing your search. Search results can be narrowed by agency name, document type (rules, proposed rules, public submissions, etc.), whether the comment period is open or has closed, and other facets. Facets can be added to narrow search results, and they can be peeled away to modify the search without starting over.
Based on my own testing, the search rules seem to be:
Use "double quotes" for exact phrases.
A space is an implied Boolean AND.
Boolean OR is not supported.
Regular plurals are found automatically.
The following example shows the results screen for a search on the word "fire," limited to proposed rules for which the comment period is currently open. The search could be further narrowed by limiting it to a specific agency, or by other facets. Results can be sorted by relevance, title, and date.
Commenting
The second home page option, "comment or submission," works much like the general search option except that the pool of documents being searched is limited to 1) agency documents open for comment and 2) public comments submitted to date. Should you or your institution wish to comment on a proposed rule or other agency document, the procedure is fairly simple:
Find the document in Regulations.gov. In many cases, you'll see other comments and submissions before you find the document they are commenting on. Simply click on the hypertext link to the Docket ID in any of the comment records to see the agency document itself along with all comments received to date.
Once you have located the proper document, click on the 'Add Comments' balloon icon.
Fill out the resulting form. Part of the form is the comments box. You can type directly into the box, with no limit to the length of your comments, or you can attach a document with your comments. The attached file can be in PDF, Word, Word Perfect, Rich Text Format (RTF), plain text, XML, or any one of other formats specified in the User Guide.
After completing the form and clicking the 'Next Step' button, you'll be given options to print, preview, edit, or cancel your comments before submitting them. Consult the Commenting on Open Documents section of the User Guide beforehand.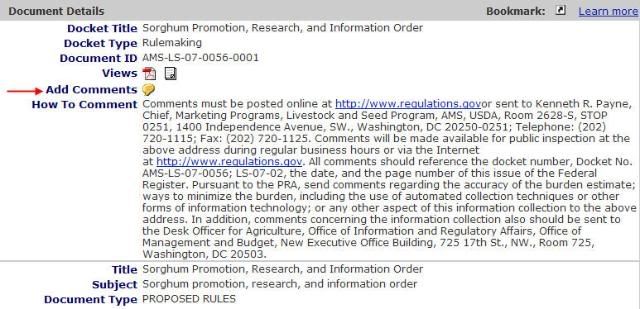 More Search Options
The third home page option, more search options, leads to a menu of choices:
Search by Keyword. This is the same as the general search option offered on the home page.
Search by Agency. Use the Agency Lookup [http://www.regulations.gov/search/agency.jsp?css=0&] link to browse and select your agency. This feature is particularly useful since the agency facet for limiting a keyword search uses agency acronyms rather than the full name used here.
Search by Type of Action. A quick route to limiting your document set to rulemaking or non-rulemaking documents.
Search by Document Type. A quick route to limiting your document set to type of document (rules, proposed rules, public comments, etc.).
Find and Take Action. Quick links to documents open for public comment.
Regulatory Agenda. Also known as the semiannual Unified Agenda of Federal Regulatory and Deregulatory Actions, this OMB document is available from other official sources, including GPO Access and Reginfo.gov. Its inclusion here makes it handy to locate a Regulation Identifier Number (RIN) number and find related documents.
Current Awareness
Regulations.gov 2.0 has an RSS feed of additions to the site's database from the daily Federal Register. This is a single feed of all new items. In mid-January this year, a free, nonofficial site — Openregulations.org — launched to provide agency-specific feeds of this information. Openregulations.org was created by Jerry Brito of George Mason University Mercatus Center.
Regulations.gov also has email alerts. These are at the docket level. Once you have identified a regulatory docket, click on the notification icon (an envelope) to complete the email notification form.
A new bookmarking feature also helps with tracking a specific docket. As stated in the User Guide:
A Bookmark icon is available at the top of the Docket Detail and Document Detail screen. You can drag the icon to your desktop, a document, or an e-mail to save the bookmark. You can also add the bookmark to your list of favorites by right-clicking on the Bookmark icon. Once a bookmark is saved, you can access the Docket or Document Detail screen at any time.
Help

Regulations.gov 2.0 comes with a variety of options for online help:

A basic understanding of the regulatory process and the documents involved also helps. Two external sources can be useful in this regard:

Posted in: