CradlePoint PHS300
I don't normally review the same type of product two months in a row but I've become enamored with the mobile broadband routers from CradlePoint.
Last month, I reviewed the CradlePoint CTR500 and instantly became a fan of its features and ease of use.
After writing that review, I found a blog post on Futurelawyer.com where Rick Georges described how he used a mobile router to make phone calls through his iPod Touch (which he called a " poor man's iPhone").
I suspected that Rick was using a CradlePoint router and a quick e-mail exchange confirmed he was using the PHS300 model.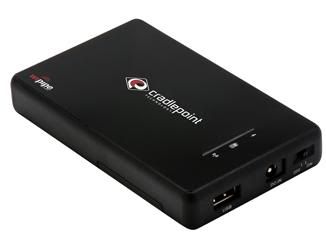 Size-wize, the PHS300 is identical to the CTR500, but that's where the similarities end. As I detailed last month, the CTR500 can handle USB or Express Card cellular modems, and even boasts an Ethernet port. In comparison, the PHS300 can only accept USB modems (such as the Verizon Wireless USB760 modem that I reviewed last month). One may think the PHS300 would be inferior, except for one major, radical difference – it houses a rechargeable battery.
CradlePoint claims the "PHS" in PHS300 stands for "personal hot spot," although EVDOinfo.com prefers to say "portable" hot spot. The fact that the PHS300 has an internal battery gives new meaning to the phrase "wireless mobility" because it's one less wire that you have to worry about while still providing access to the Internet from just about anywhere.
I'll describe a common scenario where the PHS300 works for me:
When I travel to a client site or have a long layover at an airport, I'm interested in checking e-mail and getting some work done, both of which require me to be online. I could try to find a Wi-Fi hotspot (see the Digital Hotspotter review below), but that takes time and could cost money (to subscribe to T-Mobile or Boingo, for example).
I always travel with my laptop and my iPhone, both of which obviously connect beautifully to Wi-Fi networks. But instead of trying to jump on a public or private hotspot provided by someone else, I create my own little hotspot by plugging my Verizon Wireless USB760 modem into the PHS300 and turning it on. Within 5-10 seconds, the PHS300 is broadcasting a private, secure (and invisible to everyone else) Wi-Fi hotspot that my laptop and iPhone connect to immediately.
As long as I have a decent signal from Verizon, I'm surfing at speeds that are equivalent to low-end cable or DSL broadband speeds.
Some ask why I don't just plug the USB760 modem directly into the laptop. And while I can certainly do that just fine, there are a few reasons why I prefer to use the PHS300 instead:
I usually like to have both my laptop and iPhone connect to the same (secure) Wi-Fi hotspot since I have a couple of applications on both devices that synchronize together (e.g. documents, files, photos, task list, etc.).
Whatever magic is built into the PHS300 lets me surf faster than when I plug the modem directly into my laptop. As I stated in my review last month, I can't substantiate this with hard numbers, but I suspect that it has something to do with CradlePoint's proprietary WiPipe technology.
By creating a private Wi-Fi hotspot, I can share the signal with my wife or colleague. This works wonderfully when we're traveling or working in a coffee shop that would otherwise charge us for using their Wi-Fi.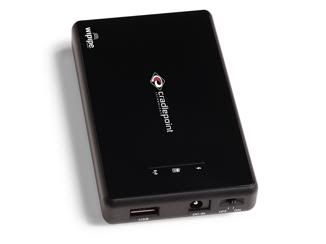 Because the PHS300 uses a battery, CradlePoint had to make a few sacrifices. Most noticeably for me, I liked how the CTR500 has a series of four blue LED lights on top that shows the strength of the signal it finds from Verizon. The PHS300 has no way to indicate the signal on the product itself, and barely has three lights to show power and connectivity.
As reported above, the PHS300 can only handle USB cellular modems, so if you have an ExpressCard model you're out of luck (although you can buy an USB adapter).
None of those issues can dissuade me from the PHS300, however, since the battery power provides such a spectacular sense of freedom.
The box includes a small Quick Start Guide that walks you through the initial setup of the PHS300 router. When you power-on the PHS300 for the first time, you'll need to connect to the router and go through the Setup Wizard. The Wizard is simple to follow and helps you enable the necessary security settings. That's all you need to do to start using the PHS300, but there are a lot more settings that can be tweaked for those who want to venture further.
The PHS300 is not cheap at $179, and you'll also need to factor in the cost of a USB modem (which can be free to $100) along with a monthly charge of $40-$60 for the cellular data service. That's a lot, but for those of us who travel frequently (locally or across the nation), it's worth the expense to have your own private, secure Wi-Fi hotspot with us wherever we go.
I actually purchased the PHS300 for a nice discount from 3Gstore.com, which has a lot of great information on 3G modems, antennas, and the CradlePoint routers. Excellent customer service too.
The folks at MoreMobileInternet.com posted a nice video comparison between the PHS300, the CTR500, and the CTR350 (yet another mobile router from CradlePoint).
Canary Wireless Digital Hotspotter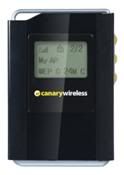 If you can't tell, I'm a huge fan of the 3G, broadband, cellular modems paired up with the CradlePoint routers. But there are rare occasions when I connect to a regular, open Wi-Fi hotspot, either because I don't have my full travel bag with me, or I'm in a situation where I just don't need the private hotspot.
In those instances, I have to find a Wi-Fi hotspot, seek out a password if necessary (which I might have to pay for), and configure my laptop to operate on the network.
In 2005, I reviewed a gadget called the Digital Hotspotter from a company called Canary Wireless. At the time, there were several Wi-Fi "detectors" on the market, but I was drawn to the Digital Hotspotter because it had a one-line mono LCD screen that showed the name of the Wi-Fi hotspot, the strength of the signal, and whether or not it was secured with a password. Many of the other Wi-Fi detectors just had LED lights that showed the strength of the signal and nothing else.
In 2009, I am happy to report that Canary Wireless updated their Digital Hotspotter to the HS20 model, and made some fantastic modifications.
First and foremost, the HS20 is slimmer – it's older brother was a little on the fat side at just over an inch thick. The HS20 is about a half-inch thick. That may not sound like a lot, but the HS20 fits much better in my bag without creating a small bulge.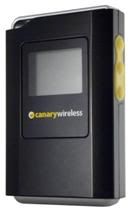 Second, the HS20 has a bigger screen, which means you can see more information about the Wi-Fi hotspots it finds. The screen is also backlit which means it's much easier to read. The bigger screen not only tells the signal strength and the name of the hotspot, it also reports what encryption type is being used (WEP, WPA, WPA2, etc.) and the speed of signal (802.11 b/g/n).

While the old Digital Hotspotter could detect 802.11 b & g signals, the HS20 can now detect the speedier, but not yet fully approved, draft 802.11n signals.

The HS20 runs on 2 AAA batteries which are included in the package. Because the screen is bigger and backlit, the batteries may not last as long as one might hope, but fortunately the HS20 will automatically turn off after a few seconds to inactivity. And since it uses regular AAA batteries, you can replace them easily.

There are three yellow buttons on the right side of the HS20 – the top button is power, while the other two are up and down buttons for scanning through multiple networks. As soon as you hit the power button, the HS20 immediately scans for Wi-Fi signals and displays them within about 5 seconds. That immediate response is the main reason I use the Digital Hotspotter – I can discover Wi-Fi hotspots in 5 seconds. If I had to take my laptop out of my briefcase, plug it in, boot it up, and wait to discover the hotspots that way, it could easily take me 10-15 minutes.

The Digital Hotspotter HS20 is not cheap at $49.95, but you won't find a better Wi-Fi detector on the market. The HS20 weighs nothing, but it's worth its weight in gold for the time it has saved me looking for a Wi-Fi hotspot. It is certainly a welcome addition to any road warrior's travel bag.

Glenn Fleishman from Wi-Fi Networking News posted a short video on YouTube about the HS20.

Posted in: