The latest Summer Fancy Food Show, which took place in July in New York City, was more than the usual showcase of new products and trends in specialty foods. The big difference this year was the addition of a natural and organic foods pavilion, echoing their increasing prominence in the market. Here are highlights of what you can expect to see coming onto your local shelves.
Exotica
The market is swelling with beverages flavored with açai (ah-say-EE), a South American berry high in antioxidants. It tastes like an indefinable berry blend and is most palatable when tamed with a natural sweetener, such as acerola (Amazon cherry), as in O.N.E. Amazon Açai drink, or hibiscus, which Republic of Tea blends into its new Açai Green Tea.
Also on the rise is agave, from the same plant that gives us tequila. Watch for it in Organic Nectars' non-dairy gelato, made from soaked and sprouted organic cashews (shudder not; it's tart and refreshing). It's also spreading into the market as a pantry staple sweetener; think honey but thinner and less strident on the tongue. Look for it in glass jars from Melissa's World Variety Produce, which has been using it in salad dressings, and from Nirmala's Kitchen. As for tequila, it's taking residence in the food aisles, too. Its flavor is unmistakable in the margarita jelly from CheRiTH VaLLeY gardens. Texas Sassy teams it with pickle juice (really) for a zingy low-sodium Tequila Ketchup that can double as shrimp dip and barbecue sauce.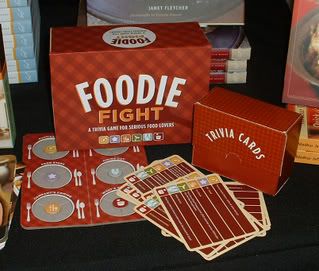 Trivial Pursuit meets Cranium in Foodie Fight, Chronicle Books' new game of 1000+ questions.
Appetizers
Savory Secret gives ample reasons not to save cheesecake for dessert. Its addictive appetizer-sized, filo-crusted varieties come in such combinations as gorgonzola and pear and red pepper, pine nuts and feta.
Harvest Song's sour cherry jam – an Armenian import that took first place in Jams/Preserves at the Show – is a third of a showstopper appetizer. Just pair it with a triple crème and a good cracker or bread.
And Dufour Pastry Kitchens, which can always be relied on for intelligent, innovative hors d'oeuvres, has introduced a knockout Indian salsa in a curried phyllo triangle, with a tingle that lasts after each bite. Its new Tuscan white bean with roasted tomato, garlic and Parmesan is reminiscent of a great marina. (Dufour's Mushroom Truffle Risotto Phyllo Flower won Outstanding Frozen Savory.)
Chocolate
The Tea Room infuses truffles with an array of organic teas. One exemplar is Bedouin's Fear, which gives off an intriguing sequence of nuanced flavors from an herbal infusion of mint, cranberry, ginger and orange peel.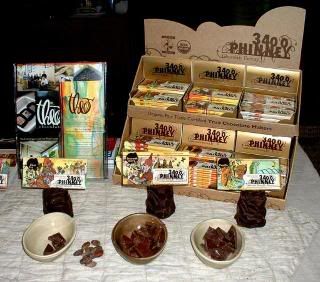 Best of Show: Theo Chocolate's intelligent and palate-expanding Confections explode with pure, fresh, and often unexpected fillings, such as mint, straight from the leaf, and not from a flavoring vial. Theo also makes spectacular single origin bars – the mild 91% Venezuelan will make you think twice about the givens of dark chocolate – and the 3400 Phinney line of inventively flavored two-ounce bars. Named for the factory's street address, these include an elegant and smooth vanilla that is anything but plain, a coconut curry that packs a stealth wow, and Bread and Chocolate, which contains actual bread crumbs (salted and buttered to boot). One of the rare U.S. chocolatiers that actually roasts the beans, Theo is the country's first organic fair trade chocolate maker. Although the company's graphics are intense and attention-getting, the name has nothing to do with a particular Dutch artist…it's a nod to the tree species Theo Broma Cacao.
Other new indulgences: From Poco Dolce come bittersweet chocolate tiles of varying flavors (me for the burnt caramel!) and topped with sea salt. Cocoa's roster of elegant bark now includes a fun interpretation of s'mores, a terrific milk chocolate with caramel and a cayenne-chipotle kick, called Harrison, and a white chocolate Sicilian dotted with almonds and candied orange.
Daring Pairings
Ilene C. Shane generates never-ending food fun from Boomer nostalgia. She dips into the 1970s for the latest addition to her Sweet Bliss Chocolates: Poppin' Frogs and Poppin' Lips, molded chocolates laced with … yep…Pop Rocks.
It takes a bit of an adventuresome palate, not to mention patience, to appreciate Rogue Creamery's collaborative cheddars. The merits and subtle flavors of each emerge if you let the cheese melt on the tongue. Morimoto Soba Ale Cheddar is made with a Rogue Ale that was designed with its Iron Chef namesake (and which pleasantly hints of fermented buckwheat). Lavender Cheddar takes its flavor from blossoms from Lilliebelle Farms; the blossoms are put over the curd, which is later rolled by hand.
Fearlessness, on the other hand, is needed for Mo's Bacon Bar, a smokehouse chocolate (you read that correctly) that envelopes applewood smoked bacon in milk chocolate, from Vosges Haut Chocolate.
And if you'd like to stump (or short-circuit) a foodie, hand over the smoky blue truffle dreamed up by Rogue Creamery and Lillibelle Farms. "Very disorienting" was all I could say, once my brain stopped ricocheting between blue cheese and dark chocolate, two sensations it had never, ever encountered -or even imagined – together.
The religious experience of the Show, hands down, was the smoked sable from Ducktrap River Fish Farm, which retains more moistness than any smoked product I have ever sampled. When I asked for the secret at the booth, the Show rep silently made wizard hand motions over the serving platter. See for yourself when this product lands in the cooler at Whole Foods.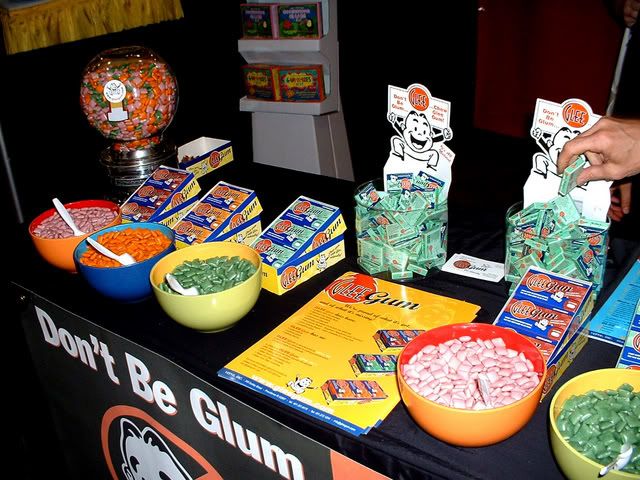 Glee Gum, which makes combination food and science projects for kids, is developing scholarship programs for the children of the chicleros, the workers who harvest chicle from trees in Southeast Mexico.
Sauces and Condiments
B.R. Cohn, a winery with a flair for olive oils and vinegars, has created a chardonnay caramel dessert sauce that approaches liquid candy. For a morning change of pace, top your pancakes with pomegranate maple syrup from Sonoma Syrup Co. The pomegranate cuts the sweetness for decidedly grown-up effects – enhanced, or so I hear, by mixologists adding it to brandy.
Schoolhouse Kitchen's Sweet Smooth Hot Mustard is as good as mine, and its Balsamic Vinaigrette Basico pulls off deep, mustard-enhanced flavors while side-stepping the gumminess that plagues many a bottled dressing. With only three products – the other is a creditable chutney, which is touted as burger accent – the company has an educational mission, supporting a leadership program for girls to counteract Britney Spears as role model.
Snacks
Carriage House's small batch cheese straws are buttery but not greasy, with a good crunchy texture. Salem Baking Company pushes cheese straws beyond the usual cheddar into Pimento Cheese and a slow-burning Three Chili. It also makes two-bite cheese biscuits with a crispy texture and rich flavors, such as Asiago Sun-Dried Tomato Pesto. Gorgonzola Cheese, and Parmesan Artichoke Garlic – all of which go well with the bubbles of sparkling wine.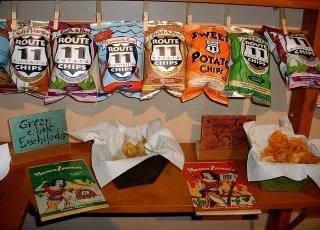 Mama Zuma's Revenge is not sweet, but crunchy, fiery potato chips with the flavor of green chile enchiladas, from Route 11 Chips.
In the healthy snack department: Lära Bar has added pistachio and a chewy key lime pie to its line of raw food fruit and nut bars. It's also launched jôcalat (from an Old English word for chocolate), brownie-like 95% raw bars that combine organic and fair trade cacao with nuts and dates, in flavors such as chocolate coffee.
Potato sticks find nutritional salvation in baked, low-fat Krinkle Sticks, the latest "snackcident" prevention tool from Lesser Evil. Dense, crunchy cousins of krinkle cut fries, the sticks come in four flavors: Sea Salt, Sour Cream and Onion, Old School Bar-B-Cue and spicy Cajun KaBOOM!, which benefits a nonprofit that builds public playspaces for children.
Tyrrell's Potato Chips, from Herfordshire in Great Britain, doesn't merely make extraordinary chips; it grows the extraordinary potatoes from which they come. The base is a heirloom potato with a low water content, and the chips are hand-fried and graced with exceptional flavors, such as Ludlow Sausage with Wholegrain Mustard, Asparagus and Crushed Black Pepper, and Sweet Chilli and Red Pepper, which won Outstanding New Product at the Show. The company also makes vegetable chips from beet roots, parsnips and carrots. Look for them at Chelsea Market Basket in New York city and Whole Foods Market around the country.
Tea
Tavalon may mean tea heaven, but for me it was the tease of the show, for serving and displaying memorable premium leaf tea "mixes" that are available only at its NYC Tea Bar. If you're ever near Union Square, turn onto 14th Street for a sip of Genius (pepperminty white tea with the gentle sweetness of Korean plums) or chocolatea, a blend of cardamom, chicory, licorice and clove.
In addition to trendy flavors like Pomegranate Red Tea with Goji and Pomegranate White Tea with Açai, Honest Tea now has an Honest Kids line of all-natural, 40-calorie drink pouches. Boasting a full day's supply of Vitamin C, they come in Berry Berry Good Lemonade, Goodness Grapeness and Tropical Tango Punch.
Water
Function Drinks are physician-developed, lightly flavored waters geared to specific functions (hence the name), such as antioxidant-laden Braniac, Urban Detox, stress-reducing Vacation with 5-HTP, and Alternative Energy, which boasts a time release of rain forest boosters. Light Weight, based on a green tea extract, comes in several flavors, including a pleasant açai.
Other Trendlettes
Healthy flavored waters being hawked as no-calorie drink mixers: Culprits include Pure Cool (its mint-and-lime mojito flavor may well nicely take the place of tonic water, but no way I would sully the mouth-awakening qualities of the pear ginger) and hi-ball energy, which just introduced pink grapefruit.

Guacamole helpers: Two heavy-weights have introduced bottled, pourable, appropriately seasoned guacamole starters for mashing into fresh avocados: Fischer & Wieser's Just Add Avocado and Frontera Foods' Guacamole Mix. To make the dip from scratch, Melissa's guacamole kit supplies everything but cilantro, from avocados, tomatoes and shallots to garlic, jalapenos, lime and directions.

Gourmet cookie dough is also on the increase. One standout is Immaculate Baking Company's Better Bakes, which come in triple chocolate chunk, chocolate chunk and vanilla sugar, and produce a very firm and crisp cookie.

Copyright 2007 Kathy Biehl. All Rights Reserved.

Posted in: