The Better Digital Mouse Trap
The Belkin Mouse Trap immediately begs the question "why hasn't someone thought of this before?"
Belkin makes all kinds of wonderful computer accessories and products. I have to give my friend Barron Henley of HMU Consulting the credit, however, for turning me on to the ingenious Mouse Trap.
The Belkin Mouse Trap appeals to me because a) I travel frequently and b) I prefer to use an external mouse with my laptop whenever possible. The Mouse Trap is a soft, pliable, cloth-like circle with a zipper. When you un-zip the Mouse Trap, it lays flat to become a functional mouse pad. There is a slight ridge on the inside of the mouse pad that holds the hem for the zipper, but it also acts as a nice "bumper" to keep your mouse from sliding off to the floor.
When the Mouse Trap is laid out flat there is a slight crease down the middle of the mouse pad, but it didn't get in the way of my mousing movements.
The most practical feature of the Mouse Trap can be inferred from its name – it becomes a nice compact holder for your mouse when it's zipped up.
I would presume that most folks today use some kind of wireless mouse with their laptops rather than one with a tail. Either way, the Mouse Trap provides a terrific holder for the mouse. If you use a wireless dongle with your mouse, the Mouse Trap will swallow that just fine. If you use a wired mouse, the Mouse Trap will keep the cord contained so it doesn't get tangled up with other wires in your laptop bag. The Mouse Trap is big enough to carry additional items like your USB memory key, VGA video adaptor, Bluetooth headset, etc.
The Mouse Trap works very well as a mouse pad because it has a circle of "sticky-stuff" on the underside that keeps it from moving around. I found it very comfortable to use as a mouse pad and a convenient method for toting my little gadgets around.
The Mouse Trap retails for $12.99 but I saw it on Amazon.com for barely over $9. This is an excellent addition to your travel business bag.
Flying High with the Aeronaut
Speaking of traveling, it's no secret that I am a big fan of Tom Bihn bags. I've been using the Empire Builder as my primary laptop carrier/briefcase for several years now, and it looks as good as the first week of use. It has protected my laptop and gadgets through rain, sleet, snow and miles of travel.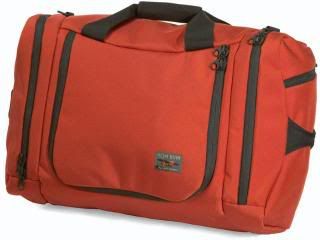 So when I needed a better all-purpose travel bag, Tom Bihn was one of the first places I looked. I settled on the Aeronaut.
I don't consider the Aeronaut a true business-travel bag – it doesn't have a specific slot for a laptop, and it doesn't carry manila folders of information very well.
The Aeronaut shines as a general, all-purpose travel bag because it fits perfectly in an airplane (under the seat in front of you or overhead), it can morph into a backpack when necessary, and it brilliantly utilizes every inch of space inside.
The Aeronaut is made of Ballistic nylon with YKK zippers – which means it's waterproof and secure. It measures 22″ x 14″ x 9″ which is significant because that means it complies with the generally accepted airline standard measurements for carry-ons.
The Aeronaut resembles a duffle-bag, but it makes much better use of the space inside. Where most duffle-bags just have one big space inside to throw everything, the Aeronaut features a U-shaped zipper lid that gives you access to the main compartment. The two sides of the Aeronaut are accessible via external zippers and are perfect for holding an extra pair of shoes.
I really appreciate the Aeronaut's handles. First, the main handle is on the top of the bag, out of the way of the main compartment's lid. Each side features a robust, sturdy handle that is perfect for yanking the bag out of the overhead bin on an airplane.
When you need an extra hand, you can pull out the backpack straps that are cleverly hidden in the back of the Aeronaut. You wouldn't even know the straps are there unless you poked around the back. I usually turn the Aeronaut into a backpack when I'm traveling with my family and need my hands to corral a frisky two-year old in the airport.
I've used the Aeronaut on the plane, for car trips, and even a Caribbean cruise – and every time I've been impressed with the bag's versatility and sturdiness.
I've mentioned before that Tom Bihn bags are a little more pricey that other bags, but that's because you're paying for top-notch quality. Not to mention that every Tom Bihn bag is hand-made at their factory stateside in Seattle, Washington.
For a Shiny Cell Phone, Try the LG VX8700
I'm a techie which means I drool over the latest and flashiest smartphone. And while I enjoy using a phone that can take pictures, record video, play music, run games, and even remote control a computer, there are many times when I just need a phone. A phone that works, sounds good, and juggles multiple phone calls flawlessly.
I've been a big fan of several Treo models, as well as the ubiquitous BlackBerry, but a few months ago I ordered a new phone and decided to downgrade. I decided I wanted a phone that just made phone calls. I didn't care about watching videos, listening to music, or playing games – I just wanted a small and compact phone that I could absolutely rely on to make and receive phone calls.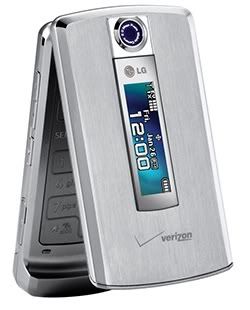 Alas, such a simple beast does not exist today; every mobile phone boasts some kind of extra feature to differentiate themselves from the cacophony of phones on the market today. I am a Verizon customer, so that obviously limited my choices. I finally settled on the LG VX8700 with which I have been very happy. (A blog post from technology columnist David Pogue at the New York Times got me looking at the VX8700 seriously.)

Now I don't recommend the VX8700 for e-mail – that's a task for another device such as a BlackBerry or an iPhone. True this means you'll need two devices instead of one, but I'm just tired of one product that tries to do too many things at once. I want a phone that works exceptionally well as a phone, and I'll get a wireless e-mail device to grab my e-mail.

The LG VX8700 looks very similar to the popular Motorola Razr phones, except that it's covered in brushed aluminum which looks fantastic. That back panel is completely flat and the front panel has a nice long screen for the time and caller ID.

The Bluetooth feature worked great with any headset I paired it with, and it easily found my Bluetooth-enabled computers.

Battery-talk-time has been great, although when I'm on the phone for over an hour, the metal back gets a little warm.

The internal screen looks fantastic although getting around the menu systems can sometimes get frustrating (that's not the phone's fault, that's a Verizon thing).

I like the one-button speakerphone option, and the voice-calling feature works very nicely.

All-in-all I am very pleased with the LG VX8700. I realize I might be losing a bit of my geek cred in downgrading from a smartphone to the VX8700, but I've been thrilled with the experience of being on a phone call without the fear of the phone freezing up or requiring a reboot.

Posted in: