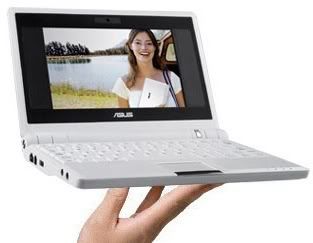 When I first read about this new "gadget" it piqued my interest. And the more I read about it, the more excited I got. I managed to restrain myself until after the Consumer Electronics Show the first week in January (not that I attended … I just wanted to make sure they weren't unveiling a new one to sell as soon as I ordered mine) and then hurried to place my order on Amazon, taking advantage of their free shipping.
The specifications: The Asus Eee 4G 7″ PC Mobile Internet Device only has 512 MB RAM and a 4 GB flash drive in lieu of a hard drive. You can expand this 4G by inserting a Secure Digital card or a thumb drive. For $399 it comes with a Webcam, Linux preloaded and an assortment of open source software. The software includes a word processor, a spreadsheet, a pdf reader, some games, some science, math and educational software, and video, music and photograph software. It is available in Pearl White or Galaxy Black. I let my husband chose and he decided that black was "more macho".
Who am I? I am not a "geek". I know just enough about computers to get myself into trouble. I have read online about users who have changed the operating system of their eeePC or modified it by cracking open the case and adding gizmos. While I applaud their intellect and abilities, I have no intention of doing that myself for two reasons: 1) I wouldn't be confident that I could do so and still have a working laptop and 2) its existing system is just fine for me.
Why did I want one so badly? My husband and I keep a journal when we travel. For years we have used a Quickpad which proved to be sturdy, reliable and adequate but primitive. Because it looked like a keyboard with just a tiny ½ inch by 3 inch screen it baffled airport security. Plus such a little "monitor" made it very hard to edit our journal without reading through the whole thing each time. When we wanted to touch base with people at home, we hunted down cyber cafes of varying quality and price. The mere thought of having something that looked exactly like a mini-laptop on which we could keep our journal and connect with wi-fi had me salivating. What really capped the decision was its lack of a fragile hard drive. We traveled exactly once with our $2,000 laptop and were always fearful it would get stolen or bumped too hard. But this eeePC promises to survive our travels. I already dropped it off the bench in a restaurant with no ill effects. We can also insert the Secure Digital card from our digital camera and immediately see 4×6 (approximately) pictures of our photos.
The Great Unveiling: When my Eee PC was shipped from J&R Music and Computer World, I received a FedEx tracking code. For two or three days, I watched as the shipment got closer and closer to home. Finally, it came up: "Delivered". I was a little disappointed when I saw the big box but unwrapping it was like those little Russian nesting dolls. Each layer was smaller and smaller, until I pulled out a white Asus box about the size of a city telephone directory, 3 inches thick. Secured in it was this tiny, very professional looking laptop about the size of a trade paperback. I glanced at the Quick Start guide while I unwrapped it and within minutes had the battery charging. Awesome is not a term I often use, but I must admit that I was "in awe" of this miniature computer. I had read reviews that labeled it as "cute" a term which I had a hard time associating with a computer but I would venture to say that 80 to 90 percent of the people who see it exclaim "It's so cute!"
Impression: I have now had it for about 4 weeks and the novelty still hasn't worn off. Neither has my conviction that it will be perfect for OUR needs. Yes, the 7 inch (diagonal) screen is small. Yes, the keyboard is cramped. Yes, it will take some re-training of my fingers to get used to the location of the shift key. Yes, I am having trouble hitting the key I want, but then again, typing has never been my strong point. Sure it is not easy to download software onto the eeePC but then again, what do I need that it does not already do out of the box? (This potential problem will be eased in a few months when Asus starts selling their Windows loaded version.)
But at less than 2 pounds, I can toss it in my bag and easily tote it where I never took our 8 pound clunker. I'm looking forward to being the envy of everyone on our next flight when I can continue typing after the person in front of me leans his seat back. Yesterday we were trying to view photos on our camera's tiny monitor and I whipped out the eeePC to made it easy for all to view. Earlier this week I attended a meeting and took minutes on it with no problem. I saved the minutes to a thumb drive and opened it in my desktop at home seamlessly. I have never had any problems connecting via wi-fi.
While I was intrigued and seriously considered the OLPC XO, I simply couldn't picture us using a lime green computer in public. It just looks too much like a toy.
Just like with any purchase, consider how you would use it. If you are looking for a lightweight computer to take on the road for word processing, to view your photos, to surf the Web and to entertain yourself, I urge you to try an Eee PC. If you want a powerful gaming machine or need to use specialized software, something else might be better for you. Me? I'll be the one with a smile on my face and a jaunty step as I swing my bag over my shoulder without sagging under its weight! Bon Voyage to me!