Last month I reviewed the announcements from Apple at MacWorld 2008. This month I want to pick up where I left off and let you know about some of the other products that I saw while at MacWorld 2008 which are not from Apple.
The Eye-Fi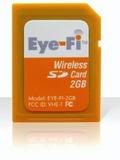 First of all I must confess I have heard about the Eye-Fi card before going to MacWorld, but as it was a MacWorld best of show winner, not to mention one of the most ingenious gadgets I've ever seen, I have to share it with you.
At first glance, there doesn't appear to be anything special about the Eye-Fi – it's just a 2 Gigabyte Secure Digital memory card that happens to be orange. But what's amazing about the Eye-Fi card is that once you have it set up, you will never have to connect your camera to your computer again. The card has built in wireless that is powered by your camera, so when you get home from taking a stash of pictures, just turn your camera on and your pictures are automatically uploaded to your computer, and also to any of 20 different online photo services including facebook, flickr, picaza, and even walmart.com.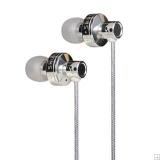 Skullcandy iPhone FMJ Headset
I love my iPhone, unfortunately there are very few stereo headsets that are iPhone compatible, due to the recessed headset jack on the device. Skullcandy, who certainly had the nosiest booth at MacWorld, just released a brand new iPhone compatible stereo headset that sound great and are much more comfortable then the headset that came from Apple with the iPhone. These ear buds also serve double duty in that they are also compatible with any audio device with a standard 3.5 millimeter audio jack.
Belkin Podcast Studio
This device is so new, Belkin doesn't even have it on their website yet. The Belkin Podcast Studio, which is due out in June is the most portable professional recording device I've ever seen. It fits onto the bottom of most iPods and is barely larger then the iPod itself, but sports 2 microphones, as well as 2 professional microphone jacks for better sound, and full gain and audio controls. Audio Recordings are saved directly to your iPod and will sync back with your computer when you dock your iPod. I'm looking forward to picking up this device when it comes out in June for conducting interviews away from my studio.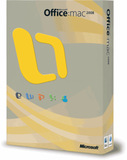 Microsoft Office 2008
When Microsoft Office 2007 was released for PC, Mac users felt a bit left behind, as they have not had any upgrades of Office since 2004, and Microsoft Office 2004 was starting to show it's age, especially as it was the last major piece of Mac Software that had not been released for native Intel use. Microsoft did not leave us Mac Users behind for too long however, and the brand new Microsoft Office 2008 for Mac doesn't disappoint. It runs faster, smoother, and with all of the great features of Office for Windows that the Mac version was previously lacking.
And so much more…
MacWorld was a great experience, much as it was last year, and unfortunately I just cannot review everything that was shown off. If you would like to know more about any of these and many other products showcased at MacWorld 2008, I recommend you check out Pixel Corps' MacBreak Video podcast. They had a great team of interviewers on hand to interview the people at several of the exhibits. Also if you prefer to listen, check out Episode 73 of their MacBreak Weekly audio podcast for a great wrap-up of the expo.

Posted in: