In August's Oklahoma Bar Association Journal
Law Practice Tips
column,
"ChatGPT, Artificial Intelligence and the Lawyer,"
we covered the development of AI tools and some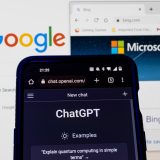 challenges they have presented to attorneys who did not appreciate the limitations of ChatGPT. This month, we will look at more AI-powered tools and techniques for using them.
DOCUMENT AND DEPOSITION SUMMARIES
One thing artificial intelligence does well is summarizing lengthy documents, such as depositions or long court opinions.
The Association of Immigration Lawyers of America (AILA) has been experimenting with powerful AI tools in their area of interest. A recent U.S. Supreme Court opinion, U.S. v. Texas, involved immigration law and was 75 pages long. Their tool quickly prepared a summary of the opinion, just over 14 pages in length. The summary is separated by page numbers in the original opinion so that if one had questions, it would be simple to read the page the summary was created from. Greg Siskind, an attorney in AILA, shared the summary, and I have placed it for download on Dropbox.
While many AI tools can create document summaries, browser-based tools are a good place to begin since they are free. But before we get to those, we should mention Claude.
Claude
Claude is an advanced natural language chatbot with capabilities that seem superior to those of ChatGPT. It is available at no cost during its beta phase. What distinguishes Claude from other chatbots is several features that surpass those of ChatGPT, including the ability to analyze documents containing up to 75,000 words and understand and compare multiple documents. Claude's database knowledge is updated through early 2023, and it supports multiple languages. The platform also demonstrates remarkable strengths in advanced reasoning and logic, as well as specialized academic knowledge.
BROWSER-BASED AI TOOLS
If one wants to have an AI-powered research (not legal research) tool, the best option may be the AI tools built into existing search engines. The lawyer will need to review and revise the settings to share as little of your prompt information as possible.
Google's Bard
Google's Bard is everyone's favorite price – free. To use Bard, you need a personal Google account that you manage on your own or a Google Workspace account for which your administrator has enabled access to Bard. You still can't access Bard with an account managed by Family Link or with a Google Workspace for Education account designated as under the age of 18. It can be accessed at https://bard.google.com.
Google's Bard is listed as an experiment and readily admits to having limitations and learns from feedback. Bard is a conversational AI model capable of dialog, built on Google's LaMDA (Language Model for Dialogue Applications). Be aware that Google collects conversations you have with Bard, along with your IP address, feedback and usage information. A subset of conversations is sent to trained reviewers and kept for three years, with automation tools to remove personally identifiable information. Google asks that you please not include information that could identify you or others in Bard conversations. To limit it from using your prompts, you can go to your Google My Activity page to toggle off storing your activity. You can also delete your activity from this page.
Bard's data, unlike ChatGPT, comes from the internet. Crafting good prompts is a skill many of us will be trying to improve. Document summaries are one of the AI tools lawyers will use – a lot. There is a character limit for a Bard prompt. When prompted to summarize a 10,000-character article, it would only accept about 3,000 characters. However, you can obtain summaries of longer articles posted online by using the prompt "Summarize the article at [link to document]." These are generally quite accurate, but it is possible that AI may add its own "thoughts." At least with document summaries, you will have the document handy for comparisons.
Bing Chat
The "new Bing" is a chatbot incorporated into the search engine. You may be logged in to a personal Microsoft account. The chatbot is also available in the Edge browser, the Edge mobile browser and the Windows 11 search bar. The new Bing screen prompts, "Ask me anything," allowing up to 1,000 characters. You can run a regular web search or toggle Chat. Bing Chat works best with Microsoft Edge or the Bing mobile app. It is available at no additional cost to subscribers to Microsoft 365 E3, E5, Business Standard and Business Premium. And in the future, it will be available as a stand-alone offering for $5 per user per month.
Chat in Bing is developed on code from their partner, OpenAI. OpenAI powers ChatGPT. Bing, owned by Microsoft, acknowledges the same foibles as Google. You can review their approach to responsible AI.
Bing Chat has a few different elements that contrast with Bard. First, the user chooses a conversational style: more creative, more balanced or more precise. In Chat, you can add 2,000 characters, which is an increase from the regular Bing search. Instead of editing your prompt, you can continue to converse with Bing Chat by adding qualifying questions until you choose "New Topic." The results for each type of search (creative, balanced or precise) are color coded so that it is easy to distinguish which mode is used.
Bing Chat also has a feature distinct from Google's Bard. In the more creative mode, it will generate images powered by DALL-E. It has restrictions so that you cannot misuse certain images, like celebrities, public figures and organizations. For more information, see PC Mag's review of Bing Chat.
DRAFTING TOOLS
Copy.ai
Copy.ai is not for legal writing, but it is a great tool for writing for a general audience, whether it is a blog post or website copy. There is a free version that is limited to writing 2,000 words per month. The Pro version costs $36 per month but licenses up to five users and includes priority tech support.
Spellbook
Spellbook is an AI contract drafting software trained on thousands of business contracts, as well as other data. I would encourage you to watch the four-minute video at www.spellbook.legal. In just a few short years, many, or perhaps most, contracts will be drafted using contract drafting tools. Spellbook's website states it was trained on billions of lines of legal text. We saw this demonstrated at ABA TECHSHOW. It was amazing to watch as it proposed several contract provisions and allowed the lawyer to choose the one that was preferred.
VIDEO TRANSCRIPTION AND EDITING TOOLS
Descript
Descript allows you to record a video or audio, and it will create a transcript of the words in the recording. One can then edit the audio by editing the text, and it will change the recording to reflect your changes. It will also automatically remove the "err" and "umm" sounds we often utter while recording.
Descript offers different plans to suit different needs and budgets. With the Free plan, you can record, transcribe, edit and mix up to one hour of content per month with filler word removal. With the Creator plan, you can access more features – such as overdub, screen record and publish – and transcribe up to 10 hours of content per month for $12 per month or $144 per year. With the Pro plan, you get advanced features, such as multitrack editing and advanced export options, and can transcribe up to 30 hours of content per month for $24 per month or $288 per year. If one desires custom invoicing, more flexibility, security or expedited support, you can also opt for an Enterprise plan by contacting the Descript team.
Julie Bays reviewed Descript for the ABA Law Practice Magazine.
PRESEASON MVP PICKS
CoCounsel and Copilot
CoCounsel from Thomson Reuters and Copilot from Microsoft were covered in the first installment of this series. We note them here again just to say that we believe these will be the tools most likely to be adopted initially and broadly by lawyers.
CoCounsel, the legal research tool, was retailing for $500 per user per month. Even at that price point, we have heard many positive comments from satisfied customers as to how their legal research was improved by using this tool.
Copilot from Microsoft is coming soon and will use all your data in Microsoft files (e.g., Word, Excel, Outlook and PowerPoint). That will provide some amazing capabilities. Sharon Nelson and Jim Calloway recently recorded a Digital Edge podcast, "Microsoft's Copilot: New AI Tools for Microsoft 365!" with Microsoft's Ben Schorr. The day after they recorded their podcast, Microsoft announced pricing for Copilot at $30 per user per month on top of your Microsoft 365 subscription.
PROMPTS
In the AI world, your questions or queries are called prompts. These are sets of instructions we provide to AI chatbots to get them to perform a task. Multiple queries can sharpen the results, with each building on previous prompts.
On one level, prompts are very simple. Just ask the AI a question. But learning how to use prompts effectively is something that requires a great deal of research and some trial and error. If you are worried about the impact of AI on your future, invest some time in learning how to do prompts on your preferred tool well.
According to the Prompt Engineering Guide, elements of a prompt may contain any of the following elements:
Instruction – A specific task or instruction you want the model to perform
Context – External information or additional context that can steer the model to better responses
Input Data – The input or question that we are interested to find a response for
Output Indicator ­– The type or format of the output
In addition, your attention is directed to "Basics of Prompting," also from the Prompt Engineering Guide site. This resource is well written with very basic language. For a deep dive into prompt engineering, see the primer from aman.ai. Dozens of similar resources are available online.
INTELLECTUAL PROPERTY ISSUES
It is worthwhile to note that ChatGPT and other generative AI tools present many intellectual property issues. If you create something useful with AI, can it be copyrighted? According to the courts and the U.S. Copyright Office, the answer is no. But you can modify the AI-created content sufficiently to claim it as your own and copyright it. That sounds like there will be many factual questions involved.
One entertaining AI activity is to create images for entertainment. So you could upload pictures of a relative, and it will generate their portrait as if painted by Picasso, Van Gogh or Rembrandt. Harmless fun. That is, until a well-known living American artist shows up at the lawyer's office complaining of a huge drop in sales since the release of these AI tools and that six of the top 10 Google searches for her work are now AI-generated images in the style of her work. Authors may feel it is inappropriate that the online versions of their books were used to train the AI. There have already been suits filed by creators claiming the AI training violates their rights.
A recent Digital Edge podcast, "Generative AI and Copyright: Collision is Inevitable," featured Vedia Jones-Richardson, a principal with Olive & Olive PA, a North Carolina-based intellectual property law firm, where she leads the trademark and copyright practice group.
CONCLUSION
ChatGPT and other LLM (large language model) AIs are easy and fun to use. That is how they became so popular so quickly. Despite some lawyers' well-reported stumbles with initial uses of ChatGPT, most lawyers will use AI tools because they are powerful and accomplish tasks in minutes that would take a human hours or days. Now we are at the "good time to experiment" stage. It is time to give some of these tools a try.

And if we haven't provided you with enough reading material in this column, let's close by directing you to a post from author and legal futurist Richard Susskind, who is well known for his observations on the future of law practices and the legal system, "AI in the law – six thoughts."

Authors' Note: Thanks to Catherine Reach, director of the Center for Practice Management at the North Carolina Bar Association, for her contributions to this column.

Editor's Note: Reprinted with permission from the Oklahoma Bar Journal, Vol. 95, No. 7. Copyright 2023. Published by the Oklahoma Bar Association.

Posted in: